If you're setting up an online payment through your bank account or you're preparing for a deposit, you'll need a couple of pieces of information. Your name, address, and bank account number will be needed as well as your bank's routing number. But, what is a bank routing number, and where is this number located? Let us help you find yours.
What Is a Routing Number?
This is a unique number that identifies the institution that holds your account. It's used in conjunction with your bank account number to direct deposits, checks, and other transactions in and out of your account. Every bank has its own routing number and many banks have multiple routing numbers that are attributed to different branches.
What Do Routing Numbers Mean?
Bank routing numbers are nine digits long and contain three unique identifying components. The first four digits are the Federal Reserve routing symbol. The second four digits identify your bank as an American Banker Association member. Finally, the last digit is used to authenticate the routing number.
How to Find Your Bank's Routing Number
There's no way you can set up online bill payments, direct deposits, or other transactions without your account number and routing number. Thankfully, there are a number of ways that you can find out what your bank's routing number is including:
A Paper Check
The easiest, fastest way to get your bank's routing number is to look at one of your checks. Along the bottom of your check, you'll notice that there are three groups of numbers. The number on the right is the check number, the middle one is your account number and the routing number is on the far left.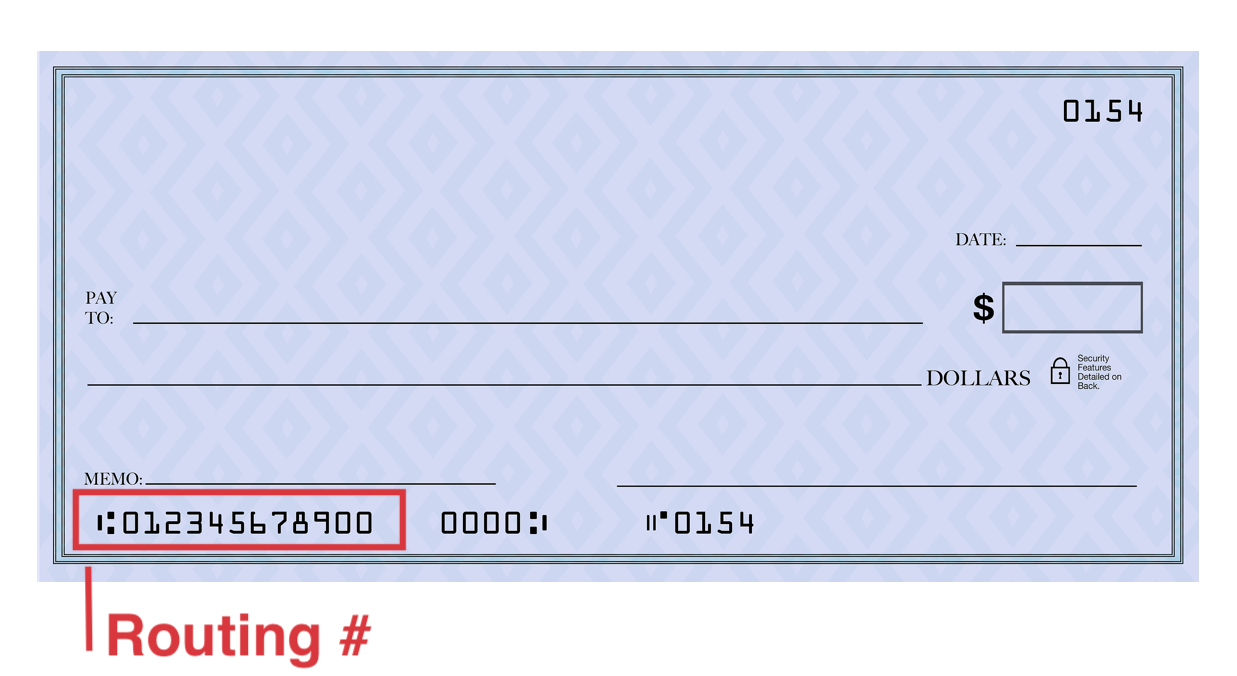 Online Search
It probably won't come as much of a surprise that you can find your bank's routing number online. Simply perform a search using your bank's name and location. You may also be able to find this information by visiting the bank's website.

This is our domestic wire transfer routing number. Our Florida routing number is 063191914
Visit the American Bankers Association
Another way that you can find your bank's routing number in a matter of minutes is to do a search on the American Bankers Association website. You'll need to know the proper name of your bank, the street address of the branch you opened your account at, as well as the city and state. Keep in mind that you're limited to 2 searches a day.
Contact Your Bank
If you don't have a paper check or bank statement, and you don't feel comfortable searching the internet, don't panic. There's still an easy way to get your routing number. Just pick up the phone and call your bank and ask for the number. If you prefer, you can always stop in and ask for the routing number. They'll happily provide you with this information.
Looking For Your Southwest Florida Bank's Routing Number?
| | | |
| --- | --- | --- |
| Bank | Florida Routing # | For Domestic Wire Transfers |
| Liberty Savings Bank | 063191914 | 242272324 |
| Chase Bank | 267084131 | 021000021 |
| Wells Fargo | | |
| Bank of America | 063100277 | 026009593 |
| Bank OZK | 082907273 | 082907273 |
| Iberia Bank | 265270413 | 265270413 |
| Sabal Palm Bank | 063116122 | 063116122 |
| GTE Financial | 263182794 | 263182794 |
| Suncoast Credit Union | 263182817 | 263182817 |
For Liberty Customers looking for routing information related to international wire transfers, you can access the instructions here.